As most of you probably know, DirecTV has added native support for the Linksys WGA600N "wireless gaming adapter", which is really a wireless bridge. It allows you to connect an Ethernet-equipped device to a wireless access point, so that you don't have to run a cable.
My problem is that a WGA600N costs about $80, and I wanted to get my parents' HD-DVR connected to their home network (and thus, to the Internet) to allow all of the cool network-based features, but I didn't want to spend $80 to do so. Also, their WiFi access point/router is their 2Wire DSL router, which is only a "G" device, not a much faster "N" device, and because it is integrated into the DSL modem, won't be upgraded anytime soon. That made the Linksys a bit of overkill.
Instead, I found a cheapie off-brand device on Newegg.com that can be set up as a wireless access point OR as a wireless bridge. Actually, it has 5 modes, but nearly everyone would use it for one of the two I mentioned. Here it is: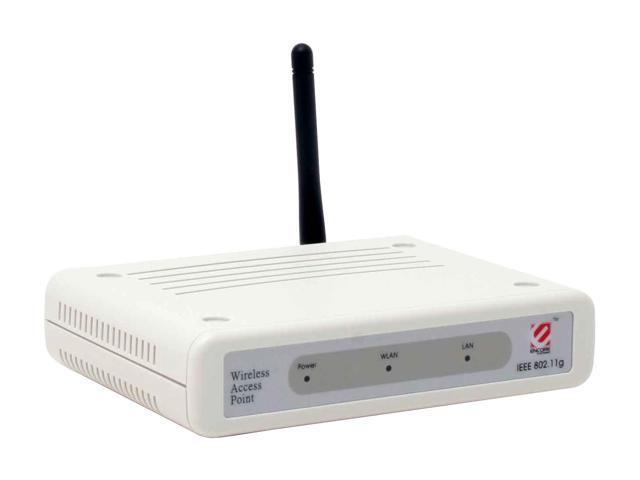 ENCORE ENRXWI-G IEEE802.11g 54Mbps Wireless LAN Extender
http://www.newegg.co...N82E16833180035
The ENRXWI-G comes set up to be an Access Point, so you have to change a setting to get it into Game Adapter mode, which the device calls "AP Client". Because there is no native support on the HD-DVR for this device, configuration must be done from a PC.
The instructions for this WGA come on a CD in .PDF format, and are only marginally useful. It took a bit of trail and error to figure out a few of the settings due to the layout and label names for a few of them, and the instructions didn't do a lot to clarify them.
From the factory, or after pressing the recessed reset button for 5 seconds, the device defaults to the fixed IP address of 192.168.1.1. Many will quickly note that most wireless routers use that address, so from the start, there's a potential conflict, but it's easy to fix:
Start by unplugging your PC from your regular network (or disable your WiFi connection) and plug in the Encore to your PC's Ethernet port. No Ethernet cable is supplied, so you'll need one. Then, go into your computer's settings for your Ethernet connection, where you're going to give your computer a fixed IP address and subnet mask, instead of using DHCP to get this from your router. In your TCP/IP properties, assign your PC the IP of 192.168.1.5 , with Subnet Mask of 255.255.255.0. You may need to reboot when done.
Once rebooted, your computer will be on the same network as the Encore. Fire up your web browser, and go to
http://192.168.1.1
, which is the IP of the Encore. You should get the Encore's login screen: enter "admin" as both the login and password. That will get you to the Status screen, where you can see the Encore's current settings.
Again, most of you will have a router using the IP address that the Encore defaults to, so you'll want to change the Encore's IP. Click on the IP Settings on the top, and enter in a different IP address in the same subnet. I chose 192.168.1.
20
, since I know that my parents' router's DHCP addresses don't start until 100, so anything 99 and below are free to use as fixed IP addresses. Click SAVE, and the Encore will reboot and will be on its new IP address. This means you'll need to use the new address in your web browser (
http://192.168.1.20
) and log in again.
Once you're logged in at the new address, click the Basic Settings tab. Use the pull-down list to change the Encore's mode from Access Point to AP Client, which is the Encore's way of saying "network bridge" or "wireless game adapter" mode.
Then, I had to set up the security. My parents' DSL router is very limited, and only offers 64-bit WEP security. The Encore's choices aren't all together: most of the other options, like WPA and WPA2, are grouped together on a grey bar background, but WEP has its own separate set of radio buttons. I clicked "WEP Key" to "Enabled", left the pull-down options for the password at "64-bit" and "Hex", and typed in the WEP password. A bit of testing revealed that you must also click the "Shared Key" button in the gray bar, or it won't actually use the WEP key.
Last, I clicked the "Site Survey" button on the SSID field, causing the Encore to scan for wireless access points. It immediately found my parent's router and those of a couple of neighbors. I selected the proper router and did a save. After the Encore came back up, I was able to access the network and Internet from my PC via the Encore. Configuration was complete! (Remember to remove the hard-coded IP address from your PC and reconnect to your home network!)
All that was left to do was to disconnect the Encore from the PC and move it to the HD-DVR. Once I had done that, I went ahead and Menu-Restarted the DVR and let it come up. Just as it should, it worked immediately, and had access to the Media Share server (WMP11) I had set up on one of the household computers. Right away, we could play music and pics on the TV. OnDemand took several hours to enable itself, as is typical when you first connect it, but it's now also working. I didn't test DirecTV2PC there, but I have no doubt that would work as well.
So, my $30 solution worked, and my parents are thrilled with all the cool new features they now have access to. Hopefully, this will be useful to someone else.