I am getting ready to upgrade my Dad's circa mid 90's DTV setup. He's stepping up in the world (and to this century) with HD and MRV w/Internet Connection. In preparation for the upgrade we are going to reconfigure the current wiring layout and rewire using RG6Q.
Our current wiring layout has a zinwell 6x8 multiswitch outside with three receiver lines running into the house. Two lines run into the garage to feed receivers in the rec room and family room. Later on we added a third receiver in the kitchen. The installer ran that line from the outside switch into the attic. And then, so he wouldn't have to bother with running his cable line down to the kitchen, he combined it in with our existing RG-59 antenna line that ran down to the kitchen TV. He added a diplexer at the end. When I subsequently hooked up a brand new HDTV to the antenna line off of the diplexer, it was lots of static and then the TV died. The TV had worked perfectly when it had been hooked up in another room for a couple of days. So for the privilege of having our antenna line cut, our DTV signal run on an inferior, nonapproved RG-59 cable, and killing a brand new TV (thankfully we were able to exchange it for a new one), we got charged $70 for that "custom" install since it was considered a wall fish.
I will never again leave another installer alone to do his work unsupervised. It was our fault for not going up into the attic with him to watch what he was doing. Lesson learned. We're going the do-it-ourselves route this time, at least as far as wiring goes.
It took a while to wrap my head around the technical aspects of SWM, MRV and ICK but I think I understand most of it. But to minimize any unwelcome surprises on installation day (and to better keep an eye one what the installer is doing), I just want to make sure I've got the wiring/equipment understood and planned correctly.
My reconfiguration plan has a SWiM line run into the attic and then into a 8-way splitter. From there, all home-run lines fed down to the receivers. My wiring plan assumes that the receivers will be HR24 and H24 models (one way or another I will get my hands on those suckers). However, I know other models require a DECA. Stop band filters shouldn't be an issue as we are replacing all of the old receivers to HD models.
Does everything look ok with the way I want to run the lines and set up everything?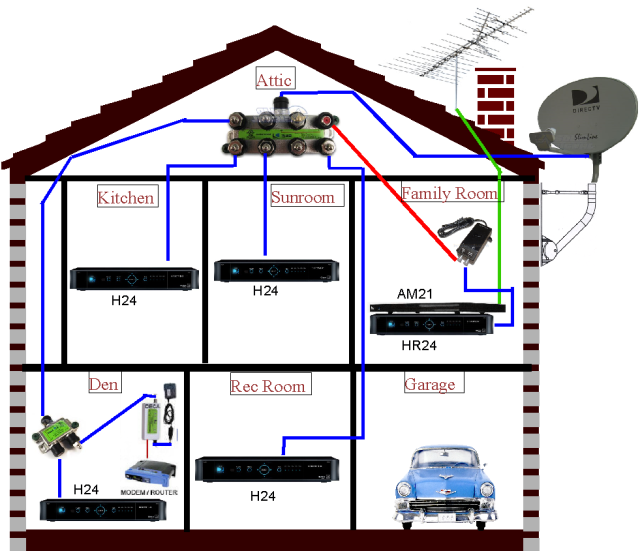 Few questions...
1. Re: ATTIC. Is there a signal loss difference between using two 4-way splitters versus one 8-way splitter? I remember reading that it is better to have as few splits as possible to avoid signal degradation. I interpret that to mean fewer actual splitters (i.e., one 8-way is better than two 4-way). If there is a difference I might buy an 8-way to have it on hand just in case the tech only has 4-way splitters.
2. Re: DEN. When splitting a coax line between a receiver and the ICK does that receiver have to be an HR (e.g., HR24), or can it be a non-HR (e.g., H24)? It seems all the diagrams I've seen either have the ICK on a separate run, or have it split off of a run to an HR using a two-way splitter. Perhaps this is just a coincidence and splitting with an H24 is fine. The FIOS modem/ethernet connection is in the den, which is nowhere near the HR that will be in the family room, so I hope the H24 in the den will suffice. I'd hate to have to run a separate line to the den for ICK.
3. Re: FAMILY ROOM. Just want to confirm that it's alright to have the SWIM power inserter after the splitter. (In the diagram, the red line to the PI indicates it is powered). I don't think there is an electrical outlet in the attic to hook up the PI there, but regardless, I don't want the PI running in a hot attic and where I can't keep an eye on it in case it overheats or something.
4. Re: SUNROOM. Will D install receivers not hooked up to a TV at the time of installation? There is currently no TV in the sunroom. We'll get one eventually, just not necessarily before the installation date. But I want to install the sunroom receiver along with all the others now rather than deal with separate install at a later date. Better to install everything at once, get any kinks worked out, and be done with it. We can easily move a TV from one room to the Sunroom so the tech can verify the receiver is installed correctly. If that's not permitted, I'll bring over one of my TVs just for the installation.
Thanks.
Edited by Arubaflower, 15 October 2010 - 04:33 PM.