Discussion Starter
·
#1
·
Hey Earl this one's for you. I have been having some lockups and strange gui freeze ups under oxef. I did have a couple of lockups under the previous version.
I discovered this strange bug as I was setting something to record a few minutes ahead of time and as that time arrived, the message that states "the channel will be changed in order to record" came up. Now I know I did not have anything else set up to record so...I went looking through the scheduler and find that the todo list is filled up with BTB episodes. So I decided to go through the guide and access BTB that way. I found that Bob the Builder is showing the staggered R's in circles just like a series link. Next I check the prioritzer and Bob the Builder is not there at all. It shows the 6 of 6 dialog on the bottom.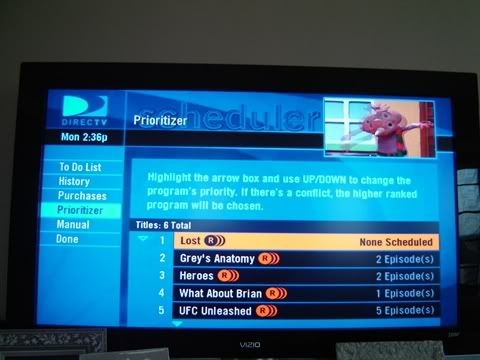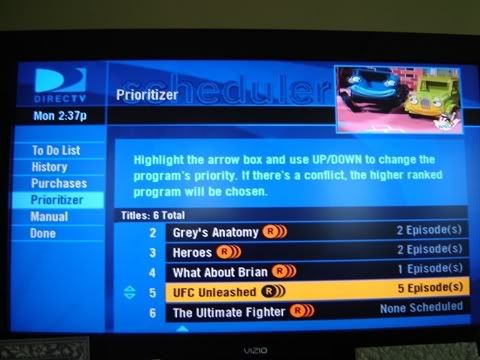 I then go back to the guide and find BTB again, select it, select record, and it brings up the record menu. I find in there that all episodes are set to record and are on the todo list but the series link is not in the prioritizer. I took pics to show how BTB shows up as a series link when accessed through the guide>record menu. It shows itself as prioritizer 7 of 6!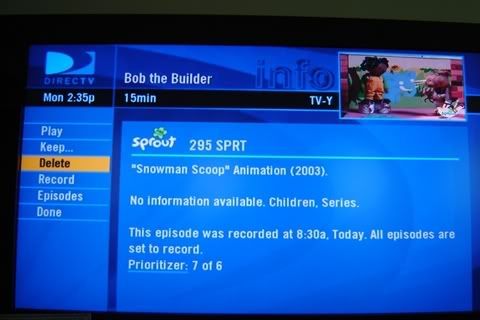 I did not set up this series link. Im sure that my 4 year old didn't do it either. Even if he or I did, it should show up in the prioritizer. I believe the reason all of the episodes show as cancelled now is because when I was in the series link setup section I selected do not record which I think cancelled them all. You can see how it populated the todo list with all those episodes. This happened the day after oxef installed itself. I went back in the history and there were no episodes of Bob the Builder before 11/17. Hope this info helps out. Hope this info helps out.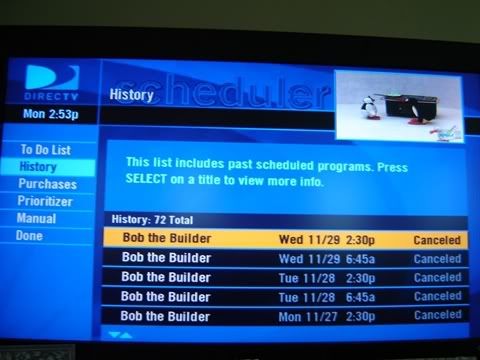 I posted this on the main page and the oxef bug page as I'm not sure everyone goes into the bug thread and I'd like to see if anyone else had a phantom Series Link like this.